Thanks to Wendy Crafts and Mary McDaniel for sharing a few of the pics here!
One of the fun events I enjoyed being part of while at CHA was the
Charity Wings
flash mob...which was actually a mob flash! The ever-energetic
Elena
(center left in above pic, with the pink wings) rallied some amazing volunteers to make it happen and dedicated it to our crafty friend,
Cheryl Waters
, who was recently diagnosed with breast cancer.
angeladaniels.squarespace.com
Dozens of us women (and a handful of awesome dudes too!) bared our artistically-decorated chests to the crowds in the lobby of the convention center right before the show opened.
We each bought a ticket to participate and then we auctioned off our handmade bras and painted shirts to raise some money for the
Be Aware Foundation
, which works to build more awareness about the importance of self-exams and early detection. We raised $900 and had lots of fun -
click here
to read more.
For a glimpse behind the making of one of my personal favorites of the day...check out Angela's
Battling Breast Cancer
bra - it fetched $100 at the auction!
Cheryl (lower left in the mosaic pic with baseball cap) joined us in the lobby for photo opps - this event happened to be the day before her surgery - and her overwhelmingly positive vibes and fantastic sense of humor were evident with her pink bra that had the simple words "see ya" over each ta-ta that were soon to be gone, but not forgotten!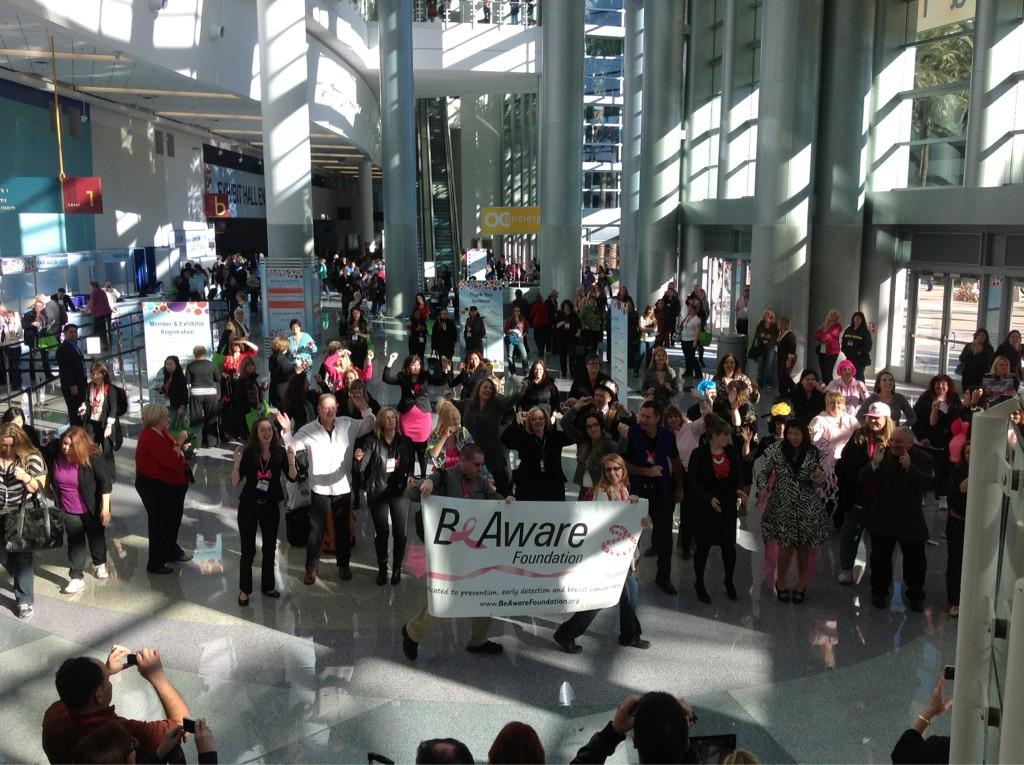 charitywingsnews.blogspot.com
Kudos to everyone who participated in the dance, to all the fantastic supporters who bought bras at the auction, and to the amazing Charity Wings team!
And hey - the original
Supa Crafta
song that we all danced to was created by two of my most favorite crafty peeps,
Andrea and Cliff Currie
!!
The official footage of the flash mob will be posted on the Charity Wings blog soon.
Click here
to see the flasher's practice video.